Why Cat and Dog Massage Works!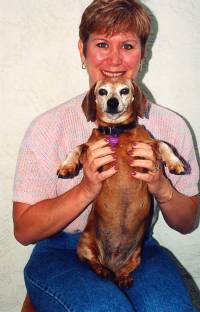 Are you interested in offering your cat or dog the BEST possible petting techniques?
Doesn't your pet deserve the best?
If you really love your cat or dog, and want the best ways to show it, then check out our books and videos on Cat Massage and Dog Massage.
As an example of what you learn in our books or videos on dog and cat massage, please enjoy the following information.
Upgrade simple cat petting to Cat Massage. Here's how: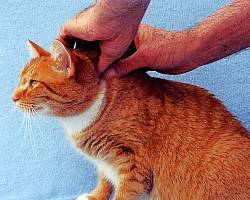 First we identify the components of actual massage techniques:
12 different hand parts
6 various hand positions
4 distinct motions
4 individual pressures and
4 definite speeds.
Then we've explained how to coordinate them into massage techniques.

Up by the head, it's called "Let's do a Little Necking."
Further down, it's "Scapula Please," and
The "Treasure Chest"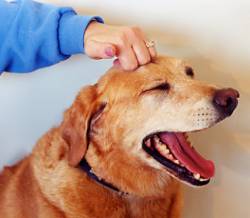 The benefits of these techniques include:
They can help soothe a scaredy cat.
They can help tame a temperamental tiger.
Or they can just build that loving bond between you and your feline or canine companion.
Dogs love it too!

See for yourself how
"Petting make friends, but massage makes partners."
See the Benefits of Cat Massage on a Scared Cat
Learn More about Helping Scared Cats


This poor kitty was terrified of people when in the shelter where he was rescued.


This is the same cat after a only a few sessions of cat massage. He is now a happy kitty that loves his humans.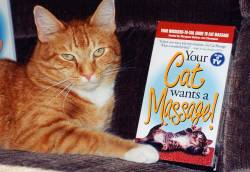 The author of several books and videos, Maryjean Ballner has been featured in numerous newspaper and magazine articles.

If you would like to learn more about Cat Massage, we have posted numerous published articles by Maryjean.